Anderson's Sea MD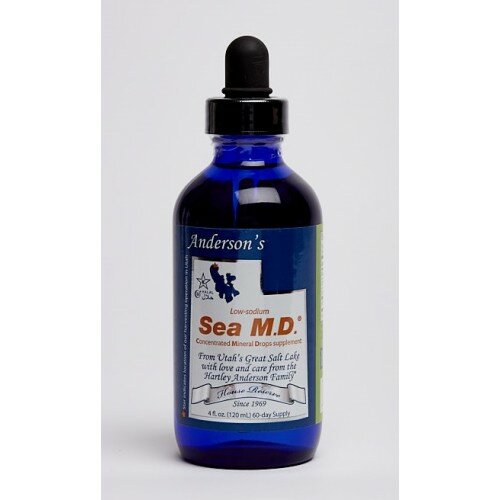 Anderson's Sea MD Concentrated Mineral Drops
The original, all-natural, low-sodium, sea mineral formula from Utah's Great Salt Lake has always come from the Andersons.
Features:
Made with love and care from the Hartley Anderson family who did the research and invented trace mineral supplements from Utah's Great Salt Lake
All-natural
Ionic
Made using the Anderson family's traditional, all-natural, solar-evaporation process, which is energized by all four seasons and typically takes a full two years to produce
Naturally contains the full spectrum of naturally occurring elements in a balance natural to the body due to its sea source
Generally Recognized as Safe
Passes the U.S. Food Chemicals Codex's Heavy Metals Safety Test
Assayed for potency and purity by in-house and independent labs
Manufactured at an NSF,cGMP-certified facility
Kosher and Halal certified
Packaged in a premium cobalt-blue, recyclable glass bottle
Measured glass pipette dropper tip features incremental measurements for quick, accurate dosing.
60-day supply in each bottle
Suggested Use: Consume 1/4-ml to 2 ml CMD mixed with foods or beverages so that daily consumption equals 2 ml. Consuming larger amounts or the full daily dose all at once may have a laxative effect. Spreading consumption over the day improves absorption.
More Information: For more information and technical data please click here to visit our research archive.
Write a review